Haj Saeed Bin Ahmed Al Lootah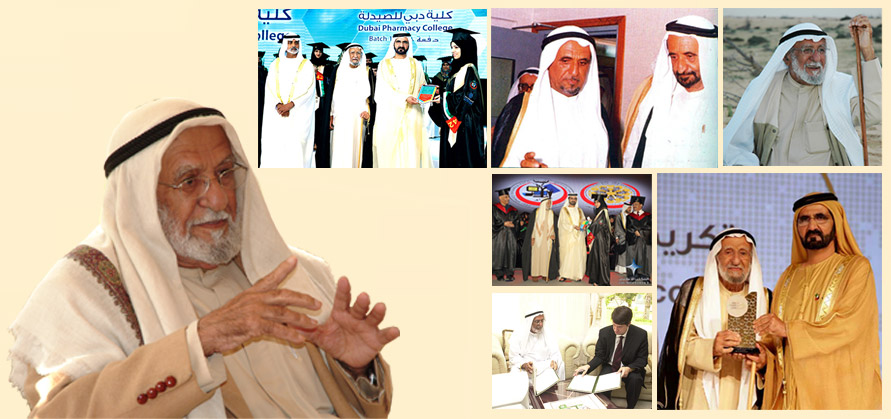 Haji Saeed Ahmed Al Lootah was a legendary leader well-known for his service to the community. He was a self-made businessman as His Highness Sheikh Mohammed Bin Rashid Al Maktoum, the Ruler of Dubai and Prime Minister of UAE rightly said and further reiterated the fact that his imprints in paving Dubai's economy was pivotal along with his charitable endeavors. His business spanned across a wide variety of business sectors from construction, real estate and energy conservation, to financial services, applied research, ICT, education, hospitality, media and healthcare. A keen learner and innovator and has been acclaimed internationally for having established the first Islamic Bank in the World.

His Highness Sheikh Mohamed bin Zayed Al Nahyan, Crown Prince of Abu Dhabi and Deputy Supreme Commander of the UAE Armed Forces, paid his tribute to Haji Saeed Ahmed Al Lootah and remembers him as a visionary who dedicated his life to charitable, cultural and educational initiatives. The UAE rulers further added that the country and the region mourns the loss of an icon who was far ahead of his time.

With enduring values of education and healthcare at his heart, he established Dubai Medical College in 1986, as the first Medical College in the country. The unique mission of Haj Saeed Lootah to set up healthcare education for girls was to nurture and empower woman healthcare professionals in the region. He further went on to establish Dubai Pharmacy College (awarding BPharm) which was the first Pharmacy College in the country, established in 1992. The founding mission was again rooted to the needs of the national and international hiatus by further adding research centers. Till date, the colleges boast of more than 2000 healthcare professionals serving worldwide.

In 2004, Haj Saeed Bin Ahmed Al Lootah was awarded The Sheikh Hamdan Award for distinguished contribution to medical science for founding Dubai Medical College.

In 2011 Haj Saeed Bin Ahmed Al Lootah was awarded 'Head of State Merit Award' from H.H. Shaikh Khalifa Bin Zayed Al Nahyan, President of the UAE on 40th National Day of UAE, for his role played in building the nation.

The world has lost a visionary. His endeavors for serving humanity are etched in history. His deep-rooted ideology and innovations will never be forgotten. May Allah grant him the highest level of Paradise.