Message from the Dean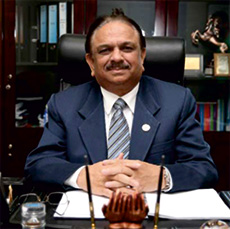 It is an honor for me to welcome you to this institution; Dubai Pharmacy College for Girls (DPCG), the first Pharmacy institute in the Gulf region which was established by the eminent philanthropist, Hajj Saeed Bin Ahmed Al Lootah in 1992. It was founded with a vision to educate girls of the Emirate to successfully and confidently meet the dynamic challenges in the healthcare in an Islamic ambience.

Endowed with the Dubai Appreciation Award in 2004, our college is accredited and licensed by the Ministry of Education -Higher Education Affairs, UAE since 1998 for the Bachelor of Pharmacy (BPharm) program and Initial Accreditation since October 2013 for the Master of Pharmacy (MPharm) program with specialization in Clinical Pharmacy.
The college fosters technological innovation, development & research. Modern instructional lecture rooms and laboratories facilitates learning advanced courses. An international team of dedicated and committed faculty maintains the quality of instruction. Pharmatalk-open lecture series, Continuing Medical Education (CME), seminars and practical projects are periodically organized. Community Engagement programs and educational trips are always guided by faculty members. Visiting professors and academics are also invited from pivotal healthcare institutions, industries and hospitals.

Needless to say, we offer career driven-skills based curricula. Consequently, the aspiring pharmacists have to undergo intensive Professional Practice Experience (PPE) in leading Hospitals & Primary Healthcare Centers under Dubai Health Authority (DHA), Pharmaceutical Industries and in Community Pharmacies accordingly.
Uniquely positioned in the Lootah Educational Campus at Muhaisnah, Dubai, which is within easy access for students not only from Dubai but also from Sharjah and Ajman. For students from other countries the hostel is a boon. It is well-furnished with all the required facilities such as health club, tennis court, swimming pool, it's just like a home away from home.

Our alumni stands as a testimony to our accomplishments.
Dean, Dubai Pharmacy College for Girls